3 Small Business Professionalism Tips
Business Series: Your Business's Online Identity – Part 5
Let's talk about professionalism and your small business, specifically as it relates to your online presence. Today there are a lot more parts that go into presenting your business in a more professional manner. This is the fifth in my series of posts on your business's online identity.
My 3 small business professionalism tips include your website, email address and business card.
Website
Your website is crucial to letting people know exactly who you are and what you do. It's basically your online storefront. You must have your own domain name. It cost under $10 per year and leads your potential clients and business partners to your online presence.
Your website isn't your Facebook or Instagram site. You don't own those! If you're starting out and don't have the funds to have a full website designed yet, get a simple landing page setup with your contact information and make sure to include in that what it is specifically that you do in your business.
No FREE Email Accounts
Everyone typically starts out with a free email account at some point, but when it comes to your business and letting people know you are serious and professional about your business, having a professional email address is a MUST.
It should be @YourDomainName.com. For instance, my email address is Tricia@MuttButs.com. Make sure you put this professional email address everywhere. It should be on your business card, website, social media and any other place you have a presence online.
Make sure to check your website thoroughly and an old email account isn't lingering around on there. If you aren't sure how to set it up, contact your website developer or get a G Suite account.

Business Card
This is one that some people don't think they need it today's digital age but is important if you're at an event networking face to face and making small business connections.
If you're starting out and are concerned about buying a lot of business cards when the information may change, or you don't know exactly what you want on it, stop by the local office supply store and buy a few blank sheets of cards that you can print on your office printer.
You can use those temporarily while you determine what exactly you want on your final business card.
Make sure your business card includes your name, website, email, phone number and What You Do! We often attend networking events and meet lots of people. Make sure it's clear what specifically it is that you do.
Keeping an online e-card to send people is something that is gaining popularity and something I recommend. Keep information and a link to your e-card in your phone notes so you can easily access it.
You should then have a link to your contact information, social media accounts and more that people can easily access. You can check out my e-card and let me know what you think.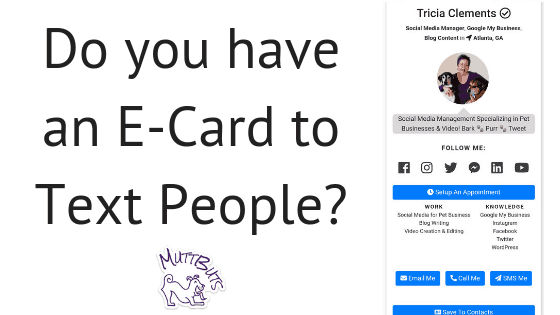 Favicon – My Pet Peeve
I know when it comes to business professionalism, I have lots of pet peeves. One is your Favicon. It's the image icon that shown in the tab when someone visits your website. Make sure you or your website developer update your Favicon to be your logo, or something recognizable as you. I always notice if the Favicon is blank when visiting a website. This is one more tool to help brand you and your business.
Is Your Business Professional?
Making sure that you have a professional website, email and business card can show prospective clients and referral partners that you take your business seriously – You Mean Business! Let me know in the comments if you have any small business professionalism tips or pet peeves that drive you crazy!
Blogs on this site may contain Amazon and other affiliate links, which means that if you click on one of the product links, I'll receive a small commission.

Comments
comments