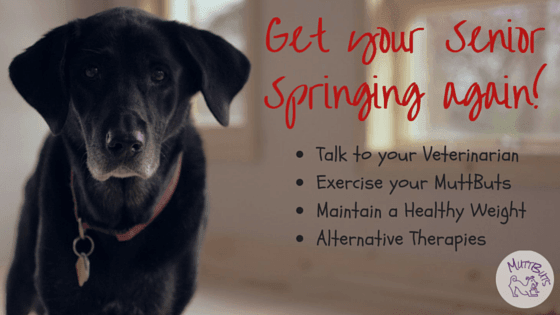 Senior Pet Month isn't until November, however with Riedi's recent arthritis issues, it's a topic I wanted to talk about as we are going through it.
The normal morning regimen in our house is for me to feed the MuttButs their breakfast first thing. I don't get much peace until they've been fed! On April 13th, as we headed to the kitchen, I immediately noticed that Riedi was having problems walking. He was falling into the wall and couldn't stand up well. He was almost acting like he was drunk! He was hungry and ate his breakfast and then we put a call into his vet to get him in that day to be checked out.
When Riedi was a puppy and tore his ACL he was also diagnosed with arthritis. But now at 13 ½ years old, he was experiencing an acute episode. This is a bit unusual, as many pets experience a much slower process. I am actually glad now that it happened this way. If it is gradual, it can be hard to notice and be concerned about small changes that you really should be addressing.
Since this episode Riedi doesn't like the stairs as much and also doesn't jump into bed with me, even though I bought him some small stairs to help him get into the bed. These are changes that can happen without an acute episode and should be noted and discussed with your veterinarian.
Talk to your Veterinarian
You will want to talk to your veterinarian on your annual visits and ask what signs you should look for as your pet ages and what steps you should take to help them. I started my MuttButs on daily Cosequin tablets early on. These are joint health supplements that most veterinarians recommend. They even come in chewable form, however that isn't an issue I have with Riedi & Margi. I was able to train them early on that if I say "Pill, Pill", they better come running and sit because they get a treat! It works for them, but I know it doesn't work for lots of pets.

If your pet has arthritis and your veterinarian doesn't mention Adequan, please ask about it. When Riedi first became lame in April and his issue was diagnosed as arthritis, I asked if we could put him on Adequan. As far as I'm concerned, it's a miracle drug.
One reason that your veterinarian may not mention it is it can be pricey and they are typically given 2 injections a week for the first month and then one injection a week from then on. I'm lucky that at East Marietta Animal Hospital, they told me that it was cost prohibitive for me to bring him in every week and they taught me how to give the injections myself!!
Riedi can be a bit of a scaredy-cat with me, he runs when I get the needle out, so I have to hide it from him. However we are managing the injections and I can see a major difference. It's like he's a spring pup again at times!
Riedi is back to running full speed through the kitchen!!
After Riedi started taking his injections, I talked to several friends that also have senior dogs with arthritis problems and neither of them had heard of Adequan. So please ask your veterinarian about it. They may not mention it at first because of the cost, but the MuttButs are worth it! It may or may not be the best medication for your dog, but it is worth the discussion.
Exercise those MuttButs
When your senior pet is diagnosed with arthritis, it doesn't mean that they stop playing, walking and getting any exercise. Just like us, if they lay around all day, they can get creaky. The most important thing is to talk to your veterinarian to see how much exercise your arthritic pet should be getting to remain healthy.

For instance, Riedi, Margi and I love to go on walks through the neighborhood. Now that he has arthritis issues, Riedi goes with us on the short 1 mile walks and stays home when Margi go on our 2 ½ mile walks. However, on the days that Riedi stays home, I make sure that he gets lots of play in.
Riedi loves his Firehose Toy from Dezi & Roo that I can throw and he can fetch. I also use it to play tug with him. I have another toy that Riedi & Margi have been testing out. We can't wait to show it off. Dezi & Roo should be rolling it out soon, so stay tuned!
While getting physical exercise is important, your senior pets should also be working their minds. Having toys that stimulate their minds can even slow the decline of cognitive function seen in many aging pets. Riedi really loves the Snoop and Carrot from Dezi & Roo that provide the mental stimulation he needs as a senior and he doesn't realize that I've tricked him into working for his treats! I put treats in the Snoop and he pops it all over the room trying to get the treats out. He really likes peanut butter (without xylitol) and a carrot or apple in the Carrot Toy.
Snoop & Nook from Dezi & Roo

Healthy Weight
I will admit that when Riedi was a puppy, I had a stern talking to by his veterinarian, Dr. Diaz, about his weight. I hadn't noticed it, but evidently my baby boy was overweight. He had conned too many treats out of me. The talk did sink in! I have kept him at a good weight ever since. I had to be especially careful because of his TPLO surgery on his leg when he was 5. Extra weight could cause him problems with that and is also especially bad for seniors.
There are various charts to view online to see if your pet is overweight (or even underweight). If you're not sure, consult your veterinarian.
Alternative Therapies
For now, the adequan is doing such a good job, we are just using it, however I may consider adding alternative therapies in the future.
Alternative therapies can include:
Acupuncture
Laser Therapy
Hydrotherapy
Chiropractic Therapy
Acupressure Therapy
Massage Therapy
Riedi will probably convince me to start with the massage therapy on him and then see if he needs any other treatment after that. He loves a good massage. He takes after his mom with that!
Our pets are our family and we wish they lived as long as we do, but unfortunately they age much faster. The most important thing you can do is to make sure you are doing everything to make sure your pet is comfortable and that they are the happiest and healthiest they can be.
Please remember that this is not medical advice, but recommendations based on my experience as a pet parent. Please contact your veterinarian about your pets specific needs.
Blogs on this site may contain Amazon and other affiliate links, which means that if you click on one of the product links, I'll receive a small commission.

Comments
comments