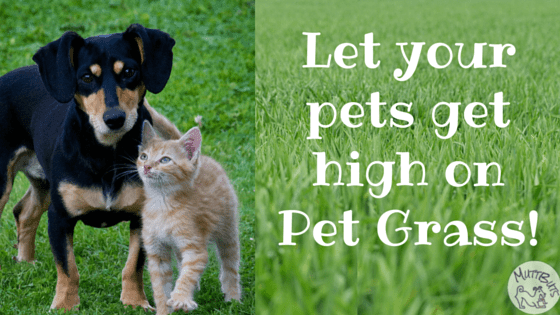 Do my pets really need access to pet grass?
Pets can be similar to us in that some of us like to eat our greens more than others. However, even those of us that don't eat a lot of greens, often do have a craving for them. Pets are very similar. Some will crave grass more than others and you will know by observing your pet which category yours fits into.
For my MuttButs, Riedi has grass cravings at least once a month, and Margi could take it or leave it. Of course, when Margi sees Riedi getting some yummy grass snack, she then becomes very interested in it. She wants to make sure that he isn't getting anything that she's missing out on. That little MuttBut!
How will I know if my pet is craving grass?
There are several ways to know if your pet is craving grass. If they start eating your houseplants (even the silk ones!) then they are telling you they want their greens! If they are outside and immediately go to a patch of grass and chow down, then they are craving their greens.
The best way to tell is to grow some and see how they like it. Most pets LOVE it. Many people think that it is indoor only pets that you should grow grass for. While it is true that you really should give them access to it, you really should grow grass for your indoor/outdoor pets as well.
I know you've heard me talk about it before, but I really do love taking my MuttButs for walks in the nice weather. All three of us enjoy it. They always stop and sniff the flowers (or peed on bushes!). They do sometimes want to stop and chew on grass, however this is the one time that I do stop them. You really don't know what pesticides people have sprayed on their lawns that can be very dangerous for your pets. This is why I grow grass for my MuttButs.
Indoor plants can be dangerous as well because many plants are toxic to pets. With Easter right around the corner, please know that Lilies are especially toxic to cats and even the pollen can cause kidney failure. Please be very careful and reconsider having them in your home if you are a cat parent.
What exactly does grass do for pets?
We haven't heard of any official studies about it, but you can see that the pet food industry is catching on and including greens in many of their products. Dr. Lynn Bahr, veterinarian and founder of Dezi & Roo, is very passionate about pets having access to their greens. She has made it her mission to educate and inform pet owners about the benefits of pet grass.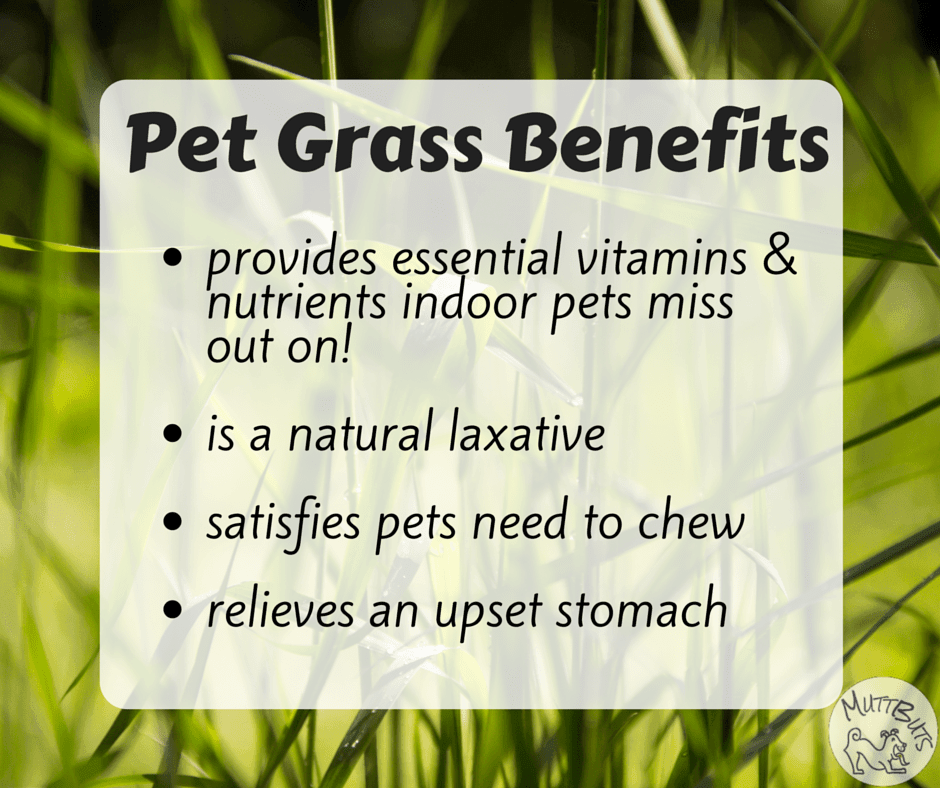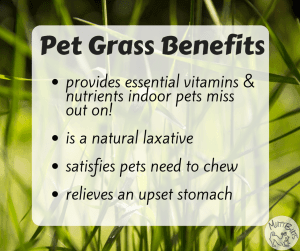 What if it makes my pet sick?
If your pet has never had consistent access to grass, they may at first try to gorge themselves on it. Think of how you feel after that all you can eat buffet! Watch them when you give them grass. Give it to them in short intervals and remove it so that they don't eat too much in one sitting.
Sometimes you may notice a pet throw up after eating grass. That's OK! A kitty may have a fur ball and the grass could be helping them get it up or pass it. Also, sometimes when we have an upset stomach, it does feel better after you throw up and empty your stomach (yuck!). Pets are the same!
If your pet is throwing up too often, then you should talk to your veterinarian and make sure there isn't another underlying medical issue involved.
But I have a black thumb!
That's not an excuse here, that's because my thumb is so black that I've killed bamboo plants before! I know, I'm pretty bad, but I can grow Dezi & Roo's Premium Grass Seed. I've got a few tips and don't forget to check out my video at the end showing how I grew some of our grass and also my Special Drawing!
Still not sure about pet grass?
As I mentioned earlier, Dr. Bahr is very passionate about educating pet parents about pet grass. During my recent March 9th episode of "Cat Chat" on Periscope, she discussed pet grass in depth. Watch and let me know what you think and contact me if you have any questions about providing pet grass to your pets.
Our next planned "Cat Chat" is scheduled for Monday, April 4th at 7 PM EST on Periscope. It's a two part series: "Fresh out of Mice? What to feed your cat." You can see my calendar on the left sidebar for our upcoming episodes and even subscribe to the Google Calendar so that you don't miss one.
If you are not on Periscope, you can watch it on your computer, however it is best viewed by downloading the app so that you can join in and type your questions in LIVE! You don't have to broadcast to join the discussion. I've done some short instructions if you want to learn more.
You can also watch all of our previous "Cat Chat" episodes.
My step by step video of me growing Dezi & Roo's pet grass!
Growing Dezi & Roo's Pet Grass
What is different about Dezi & Roo's Pet Grass?
Grown in the southern California coastal air without any pesticides or hot-houses, pets love Dezi & Roo's special blend of rye, wheat, oat and barley seeds. It grows lush and green and you may even notice water droplets at the ends of the blades as it is growing. This attractive to your pets, especially cats that don't drink as much water as dogs. It can help them get the hydration they need.
Last, but certainly not least, the special drawing I told you about!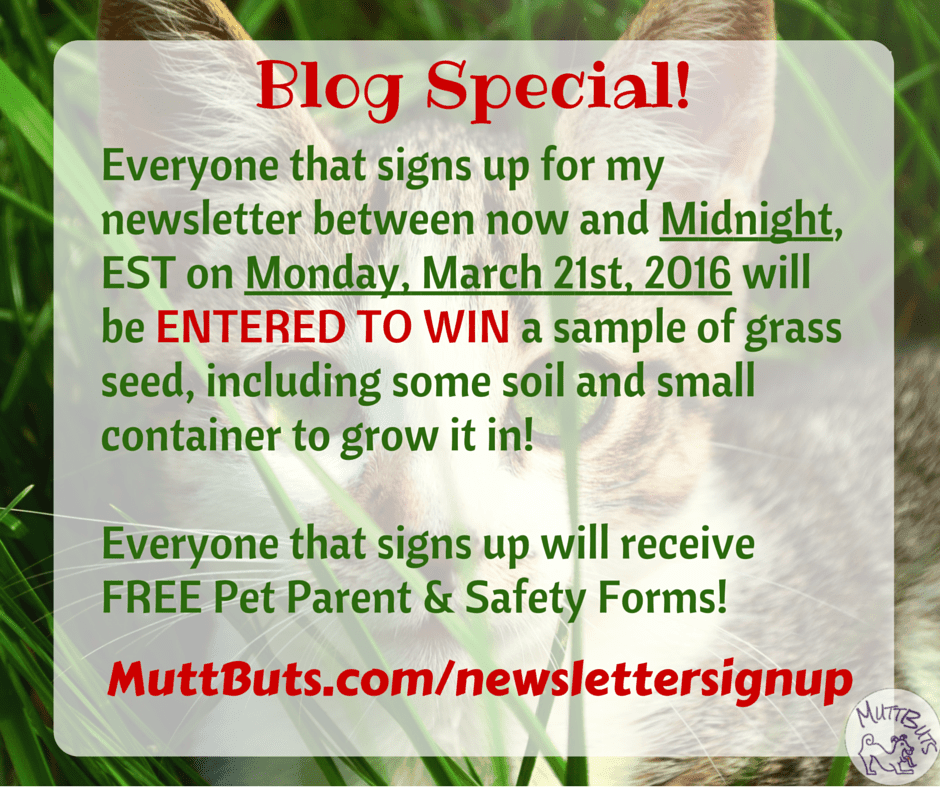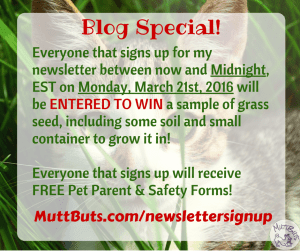 Blogs on this site may contain Amazon and other affiliate links, which means that if you click on one of the product links, I'll receive a small commission.

Comments
comments