How to Optimize Your Blog for SEO
How to Optimize Your Blog for SEO
If you're writing a blog, then you should make sure to optimize your blog for SEO, search engine optimization, purposes. This is crucial to getting traffic to your website.
Over 30% of all websites use WordPress. One reason is all of the built-in SEO optimization tools. That is why I recommend WordPress and use it along with Yoast SEO plugin. If you're in business, you want your website to be found online; a WordPress site is the best foundation for this.
If you choose another SEO plugin instead of Yoast, make sure that it has all of the options I discuss in this post.
Blog Topic & Keywords
I recommend coming up with a posting schedule and being consistent. Ideally the more posts, the better, however it won't do you any good to start with a schedule that you can't keep up with.
This is why I recommend determining a schedule and coming up with topics that interest your audience and writing them down. Don't attack it one post at a time, it will be a lot harder that way. Start with a 3-month schedule and try to get it to a full year of topics. A good topic brainstorming session will save you time on the back end.
Once you have your topic, you'll need to determine the best keywords. You'll make sure that the primary and secondary keywords are sprinkled throughout your post, but in a way that makes it readable. Don't keyword stuff the post. Your topic and keyword should go hand in hand, so it should flow naturally.
Determining keywords is not something learned overnight. There are numerous tools you can pay for, including SpyFu, which starts at $33/month.
Alternatively, you can use Keywords Everywhere, which has a Chrome extension. I also focus a lot on video and when doing that, I use TubeBuddy that shows what keywords are good for you and also specifically your YouTube channel.
The best thing to do is to try a few SEO tools and see what works best for you. You'll add the keywords into your blog. If you're using Yoast SEO, there is a place at the end of the blog to add keywords. Don't forget to make sure your keyword is in your first and last paragraph.
Meta Description, Title and URL
Your Meta Description is 160 or less characters and is what shows up in search engines. You want to be concise and let the reader know exactly what they are going to get by clicking your post. Don't forget to be enticing! You want them to click on your post.
Write your Meta Description and make sure you add it to your post. Many plugins have a place at the end of the post to add it. If you don't add a Meta Description, Google will simply use the first 160 characters of your post. This may not be the best wording to get people attracted to click on your post. Here's an example of what come's up on a Google Search.

When you write your title, it should be 40-65 characters and tell your audience exactly what the topic is about. The title needs to include your primary keyword.
Another great feature in WordPress is that you can select your URL. Some website content management systems don't allow this and it can make for a title that is too short or a URL that is too long. The URL should be short and similar to the title. If the title is a bit too long for a URL, shorten it a bit.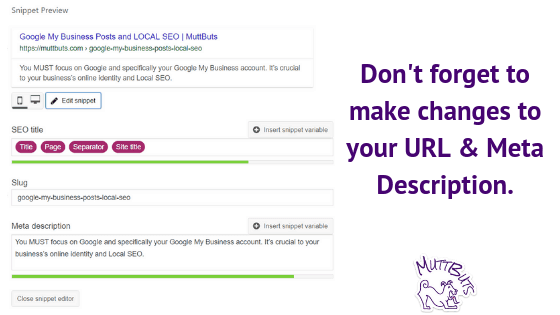 Categories & Tags
Categories and tags help people find specific topics on your site by grouping them. A category is a broad group, like dogs. A tag is a much more specific group, like small dogs or German Shepherds.
Make sure that you review your post and add it to the appropriate category and tag.
Headings & Readability
You'll notice that I have my post paragraphs divided by headings. This not only helps the readability of the post, but also helps optimize your blog for SEO purposes. Don't simply make the font larger, the coding is important! You want to select one H1 (Heading 1) from the formatting and then the remainder should be H2 headings.
The search engines pick up on this and it helps them determine what your post is about. You should have your primary keyword in H1 and one of your H2 headings, if possible.
Your headings help make your blog post more readable, but you also have several other things to add.
Shorter paragraphs
Shorter sentences
Bullet points and numbered lists
Include images
Easily readable font type and size (14-16 pixel is optimal)
INFOGRAPHIC -15 Tips to Optimize Your Blog Post for SEO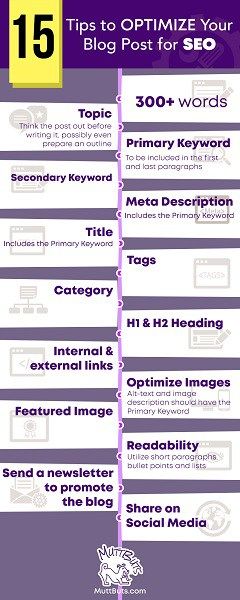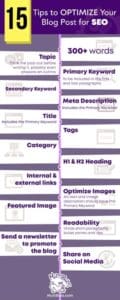 Links
Every blog you write should contain a few links. Linking to other external sites that are an authority in your topic. This helps expand your reach and improve your SEO.
Internal links are links to another area of your website. This can be another blog what you reference or even a product page.
Add Images to Your Blog
It can be boring to have a blog post without any images, but when you add those images, make sure you are also adding the Alt-Text and image description. They should include your primary keyword.
For instance, if your post is about 5 Tips to help Give Your Dog a Bath, the keyword is dog bath and you have an image of a girl bathing a dog, your Alt-Text should be something like: "girl giving cute dog bath".
You also want to set a featured image for your blog. This is the image that comes up on your blog page and when it is shared. If you don't select one, the image used may not be the one you prefer.
Optimize Your Blog for SEO and then Share It!
Once you've written and optimized your blog, go back and re-read it. Check it over and make sure to add a Call To Action! If you have a product, service or freebie, mention it and link to it.
As I've discussed before, once you write your blog, you do need to share it to get optimal exposure. Make sure you are sharing it with your email list and on social media.
This is simply a beginning point for optimizing your blog for SEO. If you need assistance optimizing your WordPress blog, prior to it going live, check out my Pet Blog Optimizer. If you have questions about optimizing your blog, contact me and I'll be happy to talk to you about your blog strategy.
Blogs on this site may contain Amazon and other affiliate links, which means that if you click on one of the product links, I'll receive a small commission.

Comments
comments