#PetLoversChat: a Twitter Chat for Pet Lovers
I'm excited to announce that I am one of the guests of an upcoming Twitter Chat on April 21st at 7 PM EST. It's going to be all about pets (you're shocked, I know). The hashtag we'll be using is #PetLoversChat. Make sure you are following me on Twitter so you can join in on the discussion and fun.
What's a Twitter Chat?
A Twitter Chat is an event on Twitter at a specified date and time with a moderator, guests, specified topic and a designated hashtag for you to follow. You'll go to Twitter during the stated time (April 21st at 7 PM EST) and type the hashtag (#PetLoversChat) in the search bar and follow along with the conversation (chat!).
You can ask questions, reply to guest or moderator questions and re-tweet to your followers.

Topics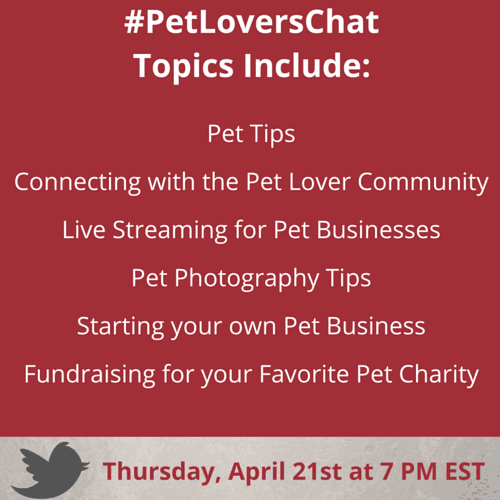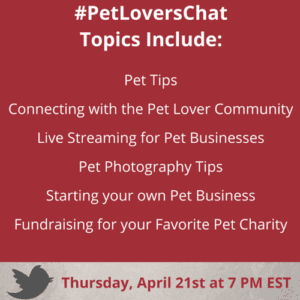 Giveaways
Did I mention there will be giveaways!?! As with most twitter chats, we'll have giveaways for you to win and the best part is that they're for pet lovers! You'll have to be there live chatting along to be entered to win. You can even be "there" in your PJs and your furry children are invited too! You can't beat that.

Moderator
Lisa Illman will be the moderator for our Twitter Chat. She's the founder of Kritter Kommunity, and their tagline sums it up: Outdoor solutions for your indoor pets. If you are active in the social media world of pet lovers, you have most likely come across Lisa and her cat Finnegan. I especially like it when Finnegan makes unexpected appearances on one of her livestream broadcasts. Lisa has been at the forefront of Livestream and a huge help to me with the knowledge she shares on livestream as I ventured onto Periscope and now Facebook Live.
#PetLoversTribe
"The #PetLoversTribe is a free online community of pet lovers who are using Periscope or other livestreaming apps. Whether you are a broadcaster or just enjoy watching others broadcast about pets, you are invited to join us!" – PetLoversTribe.com

Since I've connected with #PetLoverTribe, my circle of friends has definitely grown. Whether it's good news or not so much, they are there to cheer me on or offer encouragement. When I decided to launch this site in January, they were the extra motivation that kept me on track and help me meet my deadline. It wouldn't have launched in January without connecting with this great community of pet lovers.
Guests
Therese Kopiwoda is the founder of #PetLoversTribe and will be sharing tips and information on connecting with the online pet community and also livestreaming for pet businesses. I was fortunate to come across Therese when I joined Periscope in December. I really had no idea what I was doing and she, along with the entire #PetLoversTribe, were there with helpful tips and most importantly encouragement. She hosts a weekly show on The Pet Scope TV called The Social Media Hound. When I watch her shows, even if I think I know about the topic, she throws me a twist and shares so much new information that I had no idea about. Kinda one of those "you don't know what you don't know" situations. If you are a pet lover or maybe even have a pet business make sure to check her show out.
Monique Rodriguez with Silver Paw Studio is the second person I found as I stumbled around on Periscope. She is a people and pet photographer from Fort Collins, Colorado. She hosts a weekly show Friday mornings on The Pet Scope TV called Focus on Pets with Monique. Monique really caught my attention when she scoped her visits to a local shelter that she was volunteering her time and services at to photograph the animals for adoption. We all know that pawsome pictures help adopt animals out of the shelters faster. I was thrilled when Monique came to Atlanta for a photography conference in January. After interacting on Periscope for over a month we got to meet in person! You'll want to tune in for Monique's pet photography tips. We all take more than just a few pictures of our pets!
I'll join the discussion and talk about raising funds for your favorite pet charities and also starting up your own pet business. I've been a Pet Solutions Specialist with Dezi & Roo since February 2015 and love talking with other pet parents and sharing our problem solving pet products. The best part is that a portion of the proceeds from every sale and party with Dezi & Roo goes to an animal related charity. Tune in to learn what's new this spring!
Make sure that you are following all of us for this twitter chat and use #PetLoversChat in your tweets during the Chat! See you there.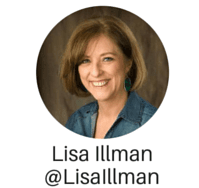 Blogs on this site may contain Amazon and other affiliate links, which means that if you click on one of the product links, I'll receive a small commission.

Comments
comments