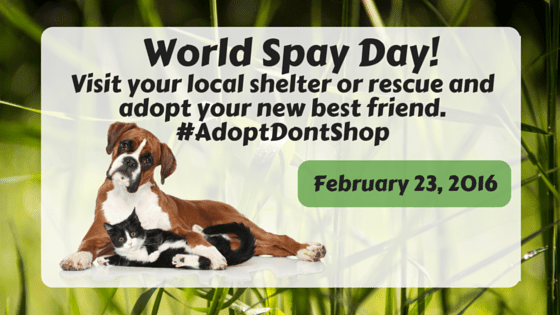 Snip!?!
That's right, snip, snip away. I might be a Mutt, But I'm 100% Fixed, Snipped, Nipped, Spayed, Neutered, whatever you want to call it. February is Spay Neuter Awareness Month and World Spay Day is Tuesday, February 23rd. The MuttButs are passionate about spay/neuter efforts in order to help reduce the number of homeless pets. Especially since at one point in their lives they were both homeless pets and were rescued. They now live a life of luxury! Well, full of love at least.
Riedi (that's my black and tan boy!) was adopted from the local shelter on December 26, 2002. He was only 5 pounds and was sitting all by his lonesome in a big cage. I was told that there was an entire litter of puppies and he was the last one left. I still question whether or not he was really 6 weeks old because I'm not sure he had been weaned off his mother yet.
How horrible and scary it must be for all of those puppies, dogs, kittens and cats dropped off at shelters across the country every day. The owner's simply thought that it was okay to be irresponsible and not worry about finding them homes, but instead dump them at the shelter for someone else to deal with.
I do however have lots (and lots and lots!) of cute baby pictures of Riedi to share.
My MuttBut Margi was from a local rescue and we will discuss her adoption into our family in a future blog post.
According to Best Friends Animal Society, over 4 million pets are euthanized in shelters across the US yearly. WOW! That number is staggering. That's why they started their Fix at Four campaign. You should get your pets fixed at FOUR MONTHS of age! Just 16 weeks may seem young, but that's when kittens can first get pregnant and for puppies it's 6 months. If you have specific questions about the best time to fix your pet, please consult your veterinarian.
Pet overpopulation is a major problem in the US and many don't realize that cats can have one to two litters a year with four to six kittens per litter. Dogs have the same number of puppies per litter and usually about one litter a year.* Multiply that by the number of unneutered pets each year and the numbers can be overwhelming, as evidenced by the overflowing shelters.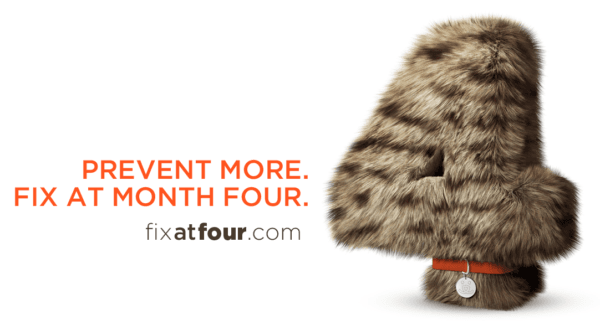 Become a part of the solution, Fix at Four!
In addition to spaying and neutering your pets and encouraging everyone you know to do the same, the other ways you can help shelters and rescues are endless.
Adopt don't shop!
Volunteer
Foster
Donate money and items – Many nonprofit organizations do yard sales throughout the year to raise funds and look for donations. You can also call your local shelter and see what items they are in need of. This can be anything from blankets, leashes and toys to hand sanitizer.

Find a local pet food pantry

– Many local communities have these and they help people that may not otherwise be able to feed their pets for a short period of time who would otherwise turn their pets into the local shelter. I had an Open House for Dezi & Roo in November and turned it into a Pet Food Drive. I donated a carload full of food and treats to Cooper's Cupboard!

Donate your time and skills

Donate your special talent
Donate Your Special Talent
This last item is where I want to focus a bit on. You may not be able to take time to go to a local shelter or rescue and spend time there or even foster, but you may have a specific talent or skill they are in need of. You have probably heard me talking about a local nonprofit that I enjoy helping, PAWSitive Supporters. They raise funds and assist with local no cost/low cost spay/neuter for those that cannot otherwise afford it.
I've known the founder, Fran Jackson, for about 6 years now and while she knows that I am unable to go to most of the events where they take the animals to be fixed, she knows she can count on me for other things. When there are events, I will spend my lunch hour posting them on various websites to help spread the word.
I also help her with the wine and beer tastings – Sip for the Snip! (Love this!). We talk to people about what we are working on and see if they have ways to help and I head up our silent auction table to raise money to pay for the SNIPS!
Through Periscope, I met Monique Rodriguez with Silver Paw Studio in Fort Collins, Colorado. She is a pet and people photographer. Monique often donates her time to visit local rescues and takes great pictures of the adoptable animals so they can be used on their website to attract adopters. Monique's talent shows the pets in their best light and helps them to get adopted. Monique is phenomenal and I love her dedication to helping the homeless animals.
If you're not on Periscope, you have to come join us. There is a very supportive Pet Lovers Tribe and we have a blast! You can check our my past scopes to see what it's all about.
Contact local rescues and see if they have needs that you can volunteer your talents for.
Don't forget to Snip, Snip away!
* Statistics from the ASPCA.
Blogs on this site may contain Amazon and other affiliate links, which means that if you click on one of the product links, I'll receive a small commission.

Comments
comments