Tutorial: Google My Business Event Posts
Google My Business Event Posts
Did you know that there is something called Google My Business event posts? Let's go over how and why you should be posting your events on Google My Business.
Google My Business has had a lot of changes over the last year and it often feels there are changes coming every single week. When we think about posting to Google My Business, it's often focused on posting a short video or an image talking about products and services that you offer, but there's also this little nugget called an event.
Post Those Events
Make sure you're posting events. One significant difference in an event versus a regular post is that regular posts expire in seven days (for now). However, when you post an event, that event will stay live until the event occurs.

That means, if you have an event coming up in a month or two, that event is going to stay live and there on your Google My Business Page when someone searches and finds you.
Don't forget that your Google My Business posts and events also come up when people search on maps and find your business. With the ever-increasing number of searches on cell phones, this makes Google My Business even more crucial to your social media strategy.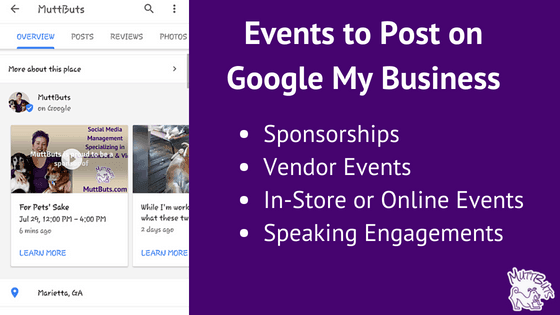 Type of events to post on your Google My Business Page
Sponsorships – If you're sponsoring an event, you want to get as many people out as possible. You should be promoting it on social media, this now includes Google My Business.
Vendor Events – Just like an event you are sponsoring, you should also post events that you'll be a vendor at. You want your current customers and potential customers to know that you will be at the event.
In-Store or Online Events – You never know when someone is nearby and searching on Google Maps and may see your event and drop in!
Speaking Engagements – If you are going to be presenting or speaking at an event, you most certainly want to promote it!
Lots More Events
There are so many different types of events you can post on Google My Business. I would love to hear about your different events in the comments below.
Watch my tutorial at the beginning of this blog that walks you through posting and let me know if you have questions about Google My Business event posts.
Blogs on this site may contain Amazon and other affiliate links, which means that if you click on one of the product links, I'll receive a small commission.

Comments
comments