Google My Business Posts and SEO
Google My Business Posts and SEO
Have you seen a Google My Business post, and wondered what they are and what they have to do with SEO, Search Engine Optimization? You're in the right place.
They are basically FREE ad space that Google is giving you! When someone searches for your business you notice that there is a box on the right that comes up with all of your Google My Business (GMB) information that you've completed. Your post will now come up there too!
Yes, it's FREE Advertising! Take advantage of it.
Google Maps
Your GMB Page is where Google Maps pulls all of their information. This makes it extremely important for SEO. When someone opens up their Google Map and searches for "dog bakery near me" to pick up their dog some treats, they are seeing the GMB information.
This is why it's important to complete all of your GMB information and include your correct address! You want to come up in that Local Search!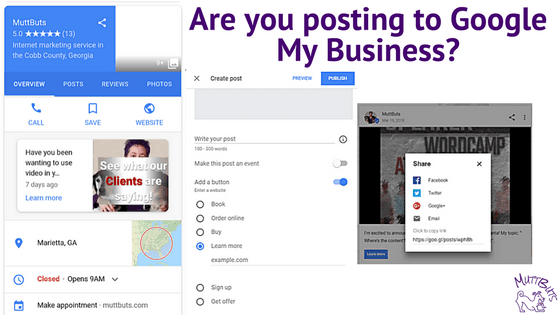 Tips for Your GMB Post
Images
You can (and should) upload an image with your post. It'll help it stand out. The information I've found on the size is conflicting, but 660x500 pixels seems to work for me. Just try it out and preview it to make sure nothing gets cut out of your image.
Currently, it's just images that are allowed and not videos or GIFs, but you never know when that might change.
Remember that people love images and they should grab the visitors attention.
Character Counts
You are allowed text of up to 300 characters, however, only the first 100 show up on the post without the user having to click to read more. Make those first 100 characters COUNT!
Post Often
Unlike other social media platforms where your post stays visible, your GMB post will only stay live for 7 days. After that point, it doesn't show up when you are searched for. This is why it's important to post at a MINIMUM of once a week.
Since you don't want your post to expire and not have a visible "AD", it's best to have at least two posts LIVE at once. Google shows them in a carousel. The first 2.5 posts will show and then the user will need to click more. A maximum of 10 posts can be live at one time on your GMB Page.
CTA
Don't forget your Call to Action (CTA). The most important part is that you are able to include a link for visitors to click. This clickable link means if you are highlighting a special or promotion, you can include the link to direct them right to your sales page! See what I mean about a FREE Ad!
Google has various buttons for your link. They include: Book, Order Online, Buy Learn More, Sign Up, Get Offer. You are even able to add an event! If you have a sales promotion coming up, this might be a great option to select. This is because unlike the other posts, your event will stay LIVE until the event is over!
This clickable link leads visitors to your website, sales page, landing page, blog, etc. Another boost for SEO!

Social
Your GMB Post also has the option for visitors to share it on social media with their friends and followers. Yet another reason to make a compelling post. You want them to SHARE!
Google My Business Page Checklist
Have you optimized your Google My Business Page? If you need some help, download my free checklist now!
Are You Posting?
Now that you know how important your Google My Business post is and it's impact on SEO, how do you plan to use it? Let me know in the comments below.
Blogs on this site may contain Amazon and other affiliate links, which means that if you click on one of the product links, I'll receive a small commission.

Comments
comments