Google My Business Page Tips
Do you have a Google My Business Page?
If not, you should and if so, you need to make sure you are optimizing it!
Your Google My Business Page is crucial to your online presence because, it's Google, which means it will improve your search engine optimization (SEO) and it's FREE! There's really no reason you shouldn't have your account properly setup. Especially since over 75% of all Internet searches are being done on Google.
That number goes up to whopping 90% of all mobile searches done through Google. As you are probably aware, mobile searches have skyrocketed and in the last eight years alone searches using mobile devices have gone up from less than 1% to over half of all internet searches. You need to make sure that you're on Google My Business and everything on your page and your website is optimized specifically for mobile searches.
Setup/Claim Google My Business
First, check and see if there is already a page for your business as Google may have setup automatically if you've been around for any period of time. If this is the case, you need to claim it. Whether you are setting up your account from scratch or claiming it, start off by going to Google.com/business and follow the steps. It's really pretty easy.
Google Will Lead the Way
Google will ask you for your location, hours, phone number and additional information about your business. Make sure that you input all of it so the information Google has is accurate.
Don't set it up and forget it!
At least once a week, check your Google My Business Listing. If you go to a business you will notice there has a "suggest an edit" where anyone online can suggest an edit for your business to Google. See if there have been any suggestions. If so, you need to review them to see if they're a valid suggestion or if it's not, let Google know that the suggestion is incorrect.
Images
You want to upload images to your profile that anyone searching will find. They want to get a feel for your business. Make sure that they are high quality, high-resolution images. They should reflect the services and/or products your business offers. If you have a brick and mortar store, be sure to include images of the inside of your business as well.
VIDEO
Don't forget that you can also upload videos to your Google My Business Page. You can upload an introduction video and others that highlight your business.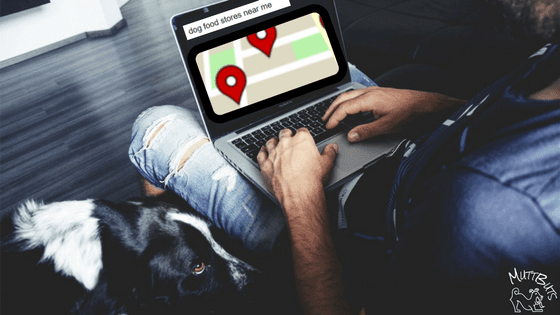 Multiple Locations
If you're a brick and mortar pet store and you have multiple locations where you're selling your pet food, toys, dog toys, cat toys, etc., make sure that you tell Google all of your locations so that potential customers find you when they type in "pet store near me".
Google searches not only show your Google My Business Page but you also show up in Google Maps. Which is what so many of us use when searching on our smartphones. If a potential customer is in your area looking to buy dog food, you want your business to come up on their map!
Having your business show up on Google Maps also helps your Local SEO. It's one of the first places to start optimizing SEO for location-based businesses wanting to increase their presence in their local market.
BONUS: Get those reviews!
Your Google My Business Page is where your Google Reviews show up. When you get a new review, make sure to login and comment on it! Let them know you saw it and appreciate that they took the time to give you a good review. This is another reason that claiming your business is crucial. Once you claim your business, you will receive an email when you receive a review.
Don't forget to respond to the poor reviews too. Take the opportunity to see what went wrong. You may even be able to convince them to increase their star rating for you if you have a great response and if your service was not up to normal standards, it's an opportunity to fix it for them.
Ask For Reviews!
Don't forget to ask your clients/customers for reviews. Don't do this by sending them a paragraph or two of instructions, make it super easy for them.
I have a 5-Star Link I create for my clients and when their clients and customers click on the link, it takes them directly to the site to write their review!
Don't Ask For Reviews From Everyone
If someone hasn't been a client, don't ask them to review you! Don't send out a request to everyone that signed up for your email list, unless you sent them something of value in exchange for it.
I've had local pet business that has requested I give them a review, but I've never been to their store and never received anything of value from them. I simply went to their website and got on their email list. This is a BIG NO, NO!
Stay tuned for more Google My Business Page tips coming up in the weeks ahead.
Blogs on this site may contain Amazon and other affiliate links, which means that if you click on one of the product links, I'll receive a small commission.

Comments
comments