Add Video to Google My Business Post
You've heard me talk all about how video is the future of the internet, but are you posting
videos on your Google My Business page
? I've talked about
Google My Business
quite a bit recently, but now they've got a new feature. It almost feels like there is a new feature every week. Let's get into the details of your Google My Business video post.
Video, Yes, VIDEO!
When I first started posting on Google My Business, they only allowed images to be uploaded as a post. That's all changed! You are now given the option of adding a video to your post. Woot! Woot!
Remember that Google My Business posts are basically free advertising that Google is giving you with a clickable link. When does Google ever give you anything for free? Take advantage of it!
It's coming
If you try it and don't have the option yet, be patient 😉. When new features come out, they are often rolled out in waves and not everyone gets them at once. Keep trying. It took me a few weeks of waiting, impatiently, too.
Adding Video to your Google My Business Post
It's just like adding an image post. Simply log in to your Google My Business page and the second item down on your menu on the left is posts. From there, it's just like adding an image.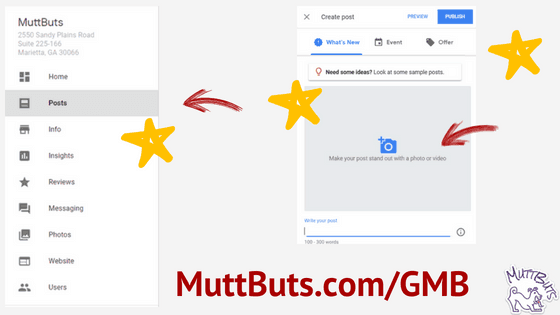 GMB Video Details
These won't be lengthy videos. The (current) maximum length for a Google My Business video post is 30 seconds. If you've got a much longer video you've posted on YouTube, you can create a Video Mini as an "ad" and include the clickable link to your full video in the post.

Mobile Sizing
Like most social media platforms, I'm posting square videos because they seem to work the best, except for, of course, on YouTube, which landscape videos are the best.
I do this primarily because most people are using their cell phones nowadays to search online. For instance, if your potential customers are looking for a "Dog Trainer Near Me", they often do this in Google Maps. Your Video Post will even show up here too!
Let's See Your Videos
Google My Business features keep changing. While posts are relatively new, being able to add a video to your post is brand new! Take advantage of it. Here's a link to my Google My Business page. Take a look and tell me in the comments below how you're using video in your Google My Business posts.
Blogs on this site may contain Amazon and other affiliate links, which means that if you click on one of the product links, I'll receive a small commission.

Comments
comments