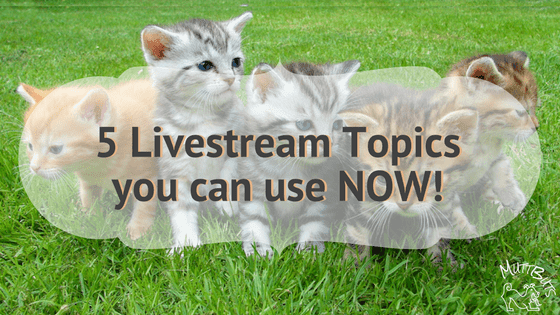 5 Topics you can use for Livestream NOW
One of the reasons some people don't want to "Go Live" is because they don't know what to talk about. I've been livestreaming since December 2015 and for a while I did it every single day! Now I normally do it 5 to 6 times a week. I know that it can sometimes be hard to come up with livestream topics to discuss. For those of you that might be wondering what you should talk about for your business, I've come up with a list of your top 5 topics to use.
Services or Products
The first topic that you can do right now is to talk about a service or product that you offer. That's right! You're going to basically talk about yourself and your business and your services. It's okay to do that because that's what livestream is about. That is why people come on to watch, they want to get to know you, and the best way to do that is for you to tell them about you and your products and what you are offering.
Holidays and Days of the Year
The second thing you can do is discuss a holiday or a "Day of the Year". There is a day for every single day of the year and sometimes there are two a day! There are also monthly holidays that you can discuss. Discuss one of those and relate it to your business. If you are a dog walker, make sure you talk about the national walk your dog day. That's something great that you can talk about and relate to your business.

Upcoming Events
The third topic is events. If you have an event coming up that you are going to be, make sure that you go live beforehand and invite all of your followers to that event. Let them know about it so they can come out to it.
While you are at the event, make sure you go live! Show them everything you have set up at your table, discuss your services your products and just let them see a little bit more about your business. Live events are really a great place to do a livestream broadcast.
Specials and Featured Products
I know you probably have lots of different coupons, specials, and featured products/services you may even have monthly specials that you do. Make sure you go live several times a month and talk about that special. Let them know all about it. You can also email your customers and tell them to check out your video of the monthly featured product. If you want to brand a video that you've done with your logo and website, contact me to get a quote for video branding.
Celebrate local Nonprofits!
The fifth topic is to celebrate local rescues and nonprofits. You can do that by going to local adoption events, going to your local shelter, or calling and setting up an interview. Nonprofits love to partner with businesses to help get the word out about what they do.
You can interview some of the volunteers, talking to them a little bit about what they do, and it's really great and also for the community to show that you are involved with nonprofits and do support them.
Businesses need to embrace a livestream and use it because you can reach your customers directly. Your followers get to know you, get to like you and get to trust you. That's really really important because it can turn a fan into a new customer.
Bonus Tip for Livestream Topics
Now that you have five Livestream Topics, you may still be a bit nervous about being in front of the camera. One thing that you can try for your first few broadcasts is to simply show your products and not be on camera yourself. The screen does turn around, so you can start it off showing what's in front of you instead of being on camera!
It's always great to be on camera to introduce yourself and tell everyone who you are. If you need to get used to livestreaming by not being on camera, do that a few times and then try starting off with the camera on yourself and introducing yourself first.
Let me know what other livestream topics you like to discuss in the comments below!

Livestream Topics – 5 Topics you can use for Livestream NOW
Blogs on this site may contain Amazon and other affiliate links, which means that if you click on one of the product links, I'll receive a small commission.

Comments
comments