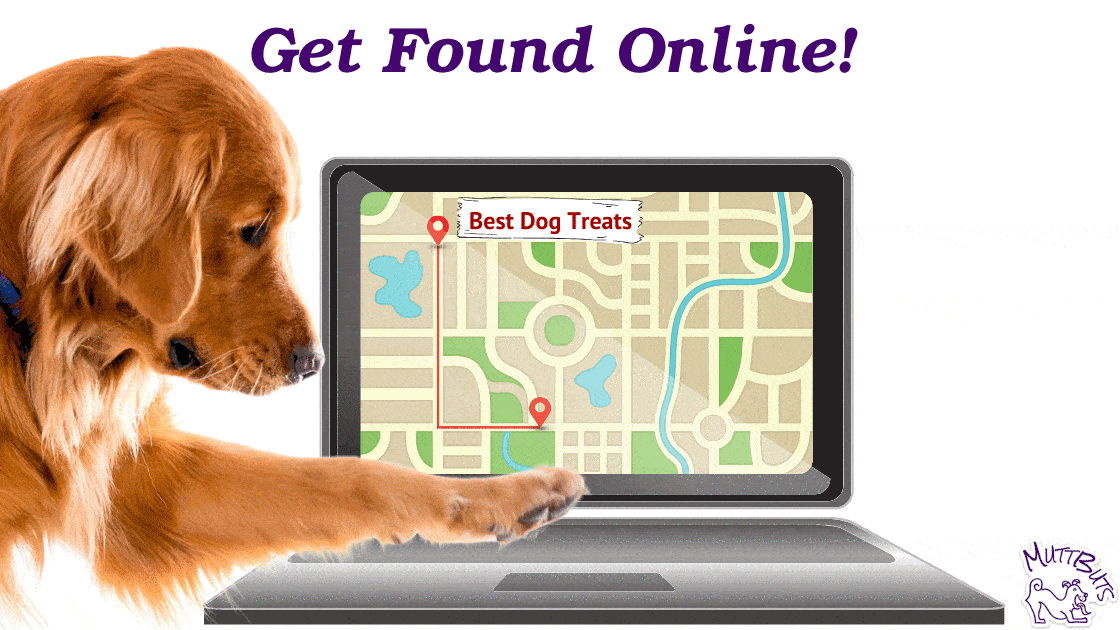 Local SEO (Search Engine Optimization) is optimizing your business online so that local customers find your business, before they find your competition. It specifically focuses on brick-and-mortar locations and service-based businesses that service a specific geographic location. Think about a mobile pet groomer. There isn't a storefront, they come to you, but they only service a specific area, if they're in Georgia, they're not traveling to Texas to groom a pet.
Paid Vs Organic Search Results
There is long list of things that can be done to optimize for Local SEO, but before you do any of those, you need to understand an important part of SEO. It's a different animal than Paid Search Results. Paid Search Results include things like Facebook or Google Ads. You're paying for those platforms to show your ads to potential customers. This is also called PPC – Pay Per Click because you're paying for people to click on your ad and hopefully buy from you.
Local SEO on the other hand is optimizing and increasing your Organic Traffic. You're implementing strategies and processes to signal to the search engines that your content is relevant and should come up in local search results when customers in your geographic area are searching online.
SEO (Search Engine Optimization) is NOT a quick results game. You need to consistently implement strategies to build your business to the top of the search results (get found on Google!). Local SEO is something that when implemented will over time help you get found online.
A few examples of Local SEO Strategies include:
Website Page Speed
Website Security (https)
Mobile Friendly Website
Organic Search Results
While Search Engine Optimization is not a quick results game, if you stop implementing Local SEO strategies, all your work doesn't simply stop! If you were getting found online, you will not suddenly start coming up on Page 10 of Google. It's not like turning off a faucet. How fast you will drop in the search results depends on numerous things, including the competitiveness of the industry and the competition in your specific local area.
As you can see, this is the opposite of Paid Ads. If you stop paying for Google or Facebook ads, they stop showing your ad in the search results immediately. The faucet is turned off.
Take a Step Back
In my previous blog, I discussed the importance of Owning Your Domain. It's crucial to maintain ownership over your business's online reputation, but it's also crucial to your business SEO (Search Engine Optimization) – Getting Found Online!
Remember that SEO strategies are consistently implemented and help boost your business's online presence in search results over time. The question is, what website are you boosting for Search Engine Optimization?
You should be implementing Search Engine Optimization strategies and leading customers (including Google and the other search engine's!) to a site that you OWN. If you spend time ($) optimizing a website on a domain that you don't own, then you run the risk of loosing that traffic if you lose the domain.
Think of everything you're doing in your business to market it.
Social Media posts – sending people to your website
Business cards, flyers, etc. with your website
Online business directories (including Google!) with your website
Promotional products with your website
You're doing all of this work to let people know about your website and get them to visit and buy from you. All of this helps build your SEO over time. More traffic to your site is a trigger to the search engines that you're important and you should come up in the search results.
Don't "Rent" Your Domain
If the business that was "renting" you your domain decides they don't want to rent it to you anymore or if you decide to stop paying your "rent" then your organic Search Engine Optimization becomes like your Paid Advertising in that the online traffic to your business will stop because your business is not at the domain address that you were optimizing SEO for. Basically the "faucet" sending traffic to your business will be turned off!
If you own your domain, this will not happen.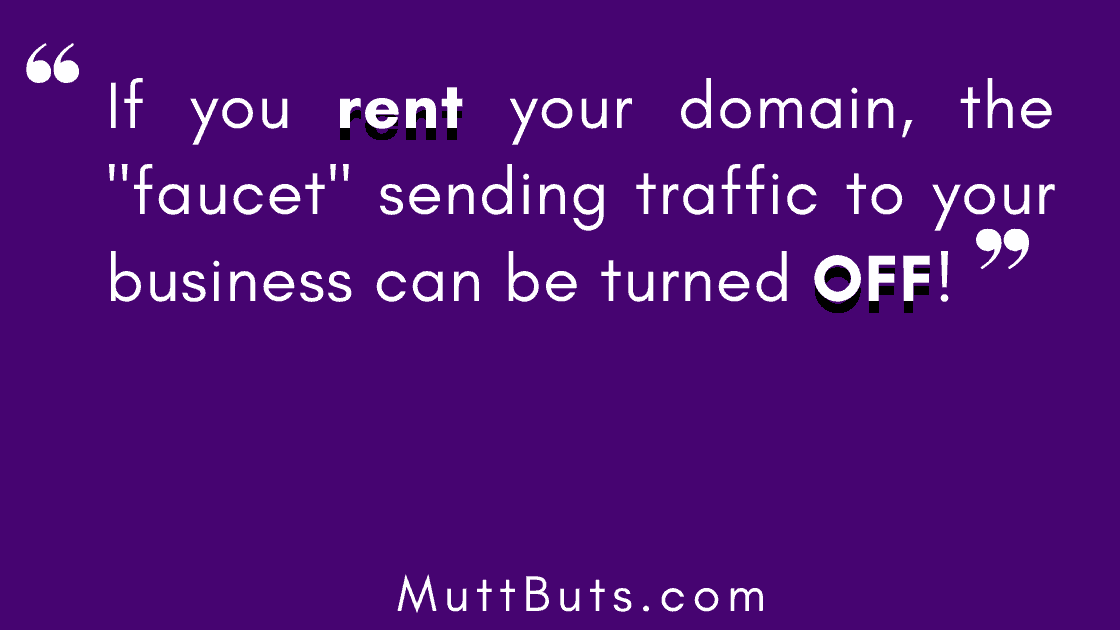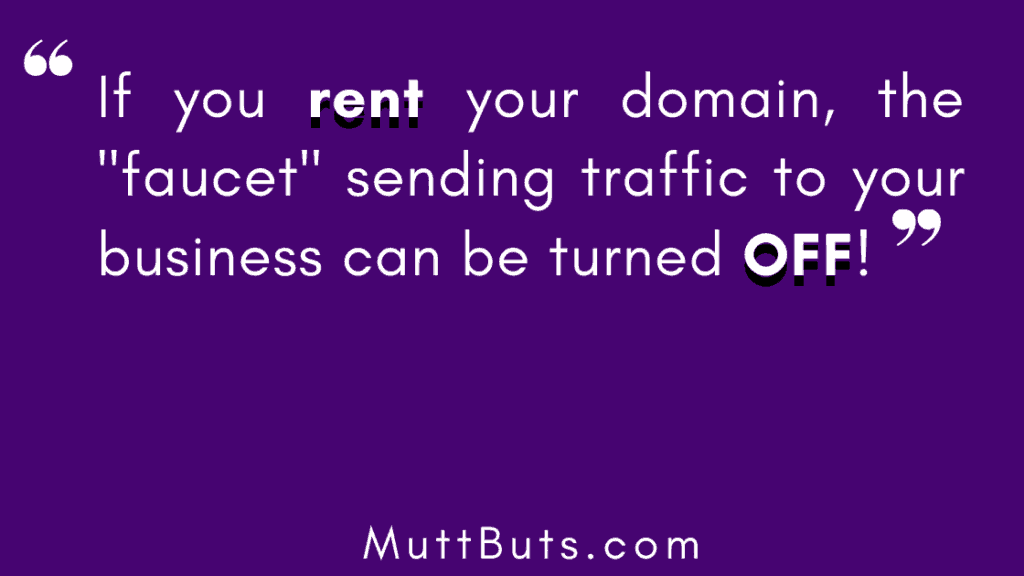 Local Search Engine Optimization can be a bit confusing when you're first learning about it, not to mention there are unethical businesses out there that will try to convince you they should own the domain that you are optimizing to get found online. As you can see, that's not how it works. They may have short term strategies that help, but it's not good for your business in the long run. It's a system that works for them because you constantly have to pay them rent or the results vanish. Just remember that your business's online identity and reputation is not something you want to rent from anyone.
Do you have more questions about Local SEO and how to get your business found online or are you looking to boost your business and bring in more customers? Grab a 15-minute free chat with me.
---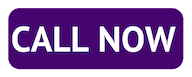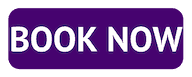 Blogs on this site may contain Amazon and other affiliate links, which means that if you click on one of the product links, I'll receive a small commission.

Comments
comments