Local SEO and Google My Business
Local SEO and Why it's Important to YOUR business
If your business serves a specific geographic location, you should be implementing Local SEO practices so that your potential customers are able to FIND you!
For instance, I often catch Margi online searching for "Dog Treats Near Me". If you're business near Marietta, GA, she should be able to easily find it online! But what about when we're out of town? When we went on our Tiny House vacation last year in Sebring, FL and she was searching, she was looking for treats there, not in Marietta, GA!
Get Found!
This is where Local SEO and Google My Business (GMB) are extremely important for your local business. Whether you have a brick and mortar storefront (that sells dog treats!) or have a service-based business (like a mobile groomer), you want to get found!
What's great for local businesses is that 46% of searches have "local Intent", meaning they were searching and wanted the results to show up for a specific geographic area.
Mobile Friendly
We're using our cell phones constantly and this is having a significant impact on how we search. People are using voice search and instead of opening the search bar, they may go directly to their Google Maps App and search. I do this all the time!
Google's 3-Pack
You want your business to come up in as high in that search as possible and even try to get into the Google 3-Pack. This is the top 3 results from a Google Search that has Local Intent. This is where you want to be and the first key to improving your business's rank is with GMB.
Some business categories are much harder than others to reach the 3-pack. Search for your specific category on google and include "near me". Take a look a the results. Are the top 3 businesses that have lots of reviews and post often? If so, it may be hard to knock one off unless you have some paid ads that will place you there.
However, if the top 3 have few reviews or a low star level for reviews and they aren't posting regularly, then there is an huge opportunity for you to get to work on your GMB account and get to the top of those results!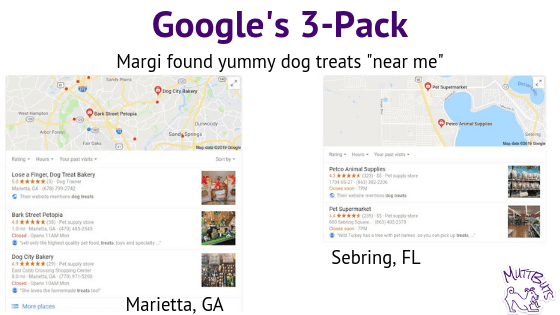 #ClaimIT!
The first step is claiming and optimizing your GMB account. This opens the door for you to update and correct information that Google has. For instance, some businesses may find that there is already a GMB profile for their business, but they can't access it. What if the business hours are incorrect? You may have some unhappy customers come by when you're closed, but GMB says you're open.
GMB Reviews
What about those reviews? You need to be able to respond and thank the positive reviewers and also the negative reviewers. You have an opportunity to rectify the situation and improve how people view your business by how you reply to negative reviews.
If your business has a GMB account and you don't have access to it, there's an option to Claim it. You want to do that sooner rather than later!
If there is no listing for your business, take the time to set it up and remember to complete ALL of the information.
Google My Business is a Social Platform
You rarely hear about Google+ anymore, and one reason is that it's gasping it's last breath. Google has moved up it's shutdown date to April 2019. Google+ has been one area that Google missed the mark with. Not to worry, they seem to be putting all of their efforts into Google My Business!
This is why you need to claim, optimize, post weekly and regularly check your GMB listing. Don't let it sit there with incorrect information for long. If Google sees that you have bad information on your listing, you'll come up lower in searches. Google wants to show results that are relevant and correct!
Over the last year and a half Google has been rolling out major updates regularly. When you check your business on Moz Local to see how you are preforming, you'll notice that Google and Facebook are the Primary Sources for your rating. I'll get into citations in a future post, but it shows that, besides your website, these are the first place you should target when working on Local SEO.
More Local SEO
Want to know more about Local SEO and Google My Business? I have several presentations scheduled in the Atlanta area in January and February. Plan to come to one, contact me to speak at your organizations meeting or conference or schedule a free 15-minute consult to talk about GMB Optimizer or any other topic you need help with.
Blogs on this site may contain Amazon and other affiliate links, which means that if you click on one of the product links, I'll receive a small commission.

Comments
comments